a shade more ... strong
june 4-7, 2020
"The retreat helped me to better tune into both internal and external events on a moment to moment basis. I left energized, motivated, opened, and grateful."
~ASM Strong retreat participant
Are you someone who wants to feel stronger and more alive? Be more active and agile as you age? Become more conscious to your breath, mind, body and soul? Whether you are new or an experienced master of the Turkish get-up, this retreat is for you. You will leave feeling more strong, more balanced, more agile, to take on life's challenges and opportunities.
Building on the successful experience of our 2019 retreat and listening to your feedback, Dori Howard, from enso and Sheila Hamilton of It's Time Fitness Results, have created a more comprehensive experience with opportunities for an impactful weekend. With more time, more activities, more options, we can tailor your learning to meet your specific needs, In addition to the usual enso retreat elements, this retreat also includes a massage, a private coaching session with Dori, a professional coach, and a private personal training session with Sheila.
Sheila has designed a retreat program built from the ground up—literally! Starting with the feet, each session will build on each other as we learn to connect the body from the arches of the feet, up to your neck and head posture. Following this detailed attention to the feet, we will move into dynamic movement and balance with the Turkish Get-Up. Are you a beginner? No problem. We have created space for beginners to learn the TGU as well as space for those who are leaning into mastery of the TGU.
What is a Turkish get-up? It is an all-round exercise that requires you to hold one arm in a stable overhead position while moving through multiple planes of motion, finding points of stability in the anterior, lateral, and overhead positions, all while supporting yourself with one hand and transitioning from lying to kneeling to standing.
9 Benefits of the Turkish-Get-Up
a primitive rolling pattern

unilateral development

a lunge pattern

an overhead hold

two hip hinges

glute activation

core recruitment

improved leg drive

rotator cuff stabilization.
When you add all of these Turkish Get-Up benefits up, it is unbelievable for overall mobility and stability of the core, shoulders, and hips. No other single exercise can do all of this. IT WILL CHANGE YOUR LIFE! Paired with "From the Ground Up" program, you will leave the retreat feeling stronger, balanced, inspired and motivated.
The Turkish get-up is learning to move strong with controlled coordinated movements…it. Many folks consider it "loaded yoga". The TGU, and the "From the Ground Up" are perfect compliments to an enso retreat where we integrate a variety of activities for of our Four Shades to Peace and Ease:
Nutritional Harmony

Mind Elevation

Heart and Soul Alignment

Synergy with Nature
A Shade More…Strong is offered to people who are desiring a deeper connection to their body, mind and soul through active and strength based modalities that connect the core, to the breath to being focused and mindful. (Maximum of 15 participants).

This retreat is for you, if you want to:
• Be introduced to experiences that deepen awareness of being present and cultivate inner peace
• Learn more about or refine your Turkish Get-up
• Learn ways to align and connect all aspects of your body for posture, balance, agility beginning with the feet
• Create a life that includes healthy ,active living
• Be nourished and refreshed in a tranquil oceanfront beach and forest sanctuary
• Have fun, play, dance and sing!
What you will do at the retreat:
• Practice subtle shifts in refining your TGU and kettlebell swing or learning the TGU from scratch
• Participate in "From the Ground Up" workshops and activities
• Be introduced to and practice Kundalini Yoga..the yoga of awareness
• Design an action plan that is meaningful to you to live a stronger, more active life
• Do TGU's everywhere…beach, treehouse, summit, sundeck!
• Hike, swim, paddle, play, breathe, stretch, chant, dance, connect and have fun!
Unique retreat environment:
• Immersion in an inspirational setting conducive to learning and transformation
• Individual and group activities
• Facilitated discussion, group coaching, private coaching
• Healthy meals prepared with local and organic food and local cook!
• Enjoyment of nature, small group setting, having fun and music
Prices
regular rates
$1095 – treehouse
$1050 – private
$950 – shared room
$850 – stargazer dorm
$795 – commuter
early bird rates
$877 - treehouse
$847 - private
$767 - shared room
$687 - stargazer dorm
$637 - -commuter

Register before March 30, 2020 to receive the early bird rates
What's included
3 nights ocean or forest view accommodation (unless you are a commuter)

newly renovated oceanfront venue, with expansive lawn, lush forests and newly renovated studio, all just steps away from a private smooth pebble beach

nourishing and healthy meals with locally sourced ingredients; some meals prepared by local chefs;

a 4 day-comprehensive, transformational, fun and unique retreat program

exceptional facilitators and retreat hosts

use of kayaks, SUPS and sports equipment and games

massage at enso Retreat centre by local massage therapist in the newly built bath house

1:1 coaching session with Dori Howard of enso

1:1 personal training time with Sheila Hamilton of It's Time Fitness Results

free on-site parking
The retreat fee, adjusted for each accommodation option. View our accommodation at enso Retreat Centre
What to bring:
• Comfortable clothing for hoisting a kettlebell over your head and back down again, yoga, outdoor hikes, outdoor fires, lounging, swimming, shopping
• Journal and pen
• Artifact and poem
• Outdoor/Rain gear and walking shoes, water shoes, flip flops, bathing suit
• Hiking/walking poles if you use them
• Water bottle, thermos
• Yoga mat
• Bottle of wine to share if you want to have wine with dinners (honour bar with wine available)
Location and How to Get Here:
The enso Retreat Centre is located on tranquil Salt Spring Island, BC - where Zen meets West Coast. This 4.3-acre oceanfront property has stunning sunsets, soothing waves gently rolling into a private smooth stone beach, dense forests of arbutus and fir trees, a babbling brook and close proximity to hiking and the funky town of Ganges.
To get there, you must travel by BC Ferries or fly in with Harbour Air. Bring your car and/or carpool with other participants. Ferry walk-on is possible and arrangements can be made for transport to the retreat location.
about the facilitators
Retreat host, Professional Coach, Kundalini Yoga Teacher, Nurse
Dori's mantra, "it's all about the learning," is integrated into all aspects of her life. Her experiences in healthcare for over 30 years have brought many lessons of giving, receiving, health and wellness. This past year has been a steep learning curve in the practice of self-compassion. Dori's view is that there is no magic bullet but rather a range of life practices that can move us 'a shade more…' towards wellness and healing. She created a self-prescribed holistic care plan that included yoga, meditation, conscious nutrition, hiking, and time in nature in her daily life in order to balance compassion for self and others. The playful and healing environment at Enso Beach House and Forest on Salt Spring Island has created a safe, fun, holistic space to become A Shade More… Whole. Dori is a skilled facilitator with extensive experience in leading individual and group learning activities in a safe and fun container to explore themselves at a deeper level. She is a certified executive coach and newly certified Kundalini yoga teacher. Her passion is creating spaces and opportunities for people to reflect, learn, play, create and try out new (or re-activate) practices that move them toward life wellness and wholeness. Since practicing Kundalini yoga, she believes in the power of the breath, and daily practice of active meditation.
Every day is better with a shower for the mind.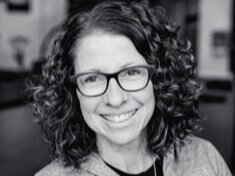 Sheila is the founder of it's time! Fitness Results. Sheila worked as a registered nurse in B.C. for 10 years at Vancouver General Hospital. Sheila's passion for maintaining current fitness knowledge and her background as a registered nurse provides the foundation for fitness programs that achieve results. Sheila opened it's time! Fitness Results training facility in July 2012. She leads a team of 7 employees and offers personal training, semi-private and group sessions.
Sheila has been a member of the National Strength and Conditioning Association for over 10 years and has been certified with the organization since 2009 as an NSCA-CPT® Certified Personal Trainer. Sheila is a Strongfirst Girya Level 2 Certified Kettlebell Instructor. She recently travelled to Philadelphia to re-certify this credential. StrongFirst is the world leader in kettlebell specific exercise instruction.
Sheila will tell you Turkish Get Ups will change your life. Through the course of learning this practice for yourself you will understand why. A movement practice for all ages that improves posture, strength and longevity, It's one of the safest core exercises in her programming menu.
There are many variations and modifications that can be used to tailor the movement to your specific needs.
Every day is better with a Turkish Get Up!
a quick glimpse of A Shade More…strong:
Thursday-Day 1
1:00 pm Arrivals and Pick-up

2:00 pm Registration, Welcome and Orientation to Venue

3:00 pm Opening Circle

4:00 pm Workshop: Your Feet: Self Care, Balance and Connection

5:00 pm Yoga class-Focus on the the breath

6:00 pm Dinner

7:00 pm Connection Circle-Sharing Artifact

9:00 pm Closing, Free time
Friday-Day 2
7:00 am Morning meditation with breath work

7:30 am Breakfast

9:00 am Workshop-Your Hips: Mobility, Stability and Strength

10:30 am Guided Mountain Hike, Forest Bathing, Lunch at summit

1:30 pm Stations: Free time, massage, 1:1 coaching, 1:1 personal training

3:00 pm Workshop: The Hip Hinge and The Kettlebell Swing

4:30 pm Yoga and Breath Work

6:00 pm Happy hour and Dinner

7:00 pm Connection Circle
Saturday-Day 3
7:00 am Morning meditation with breath work

7:30 am Breakfast

9:00 am Workshop: Your Spine and Core Box

10:30 am Saturday Market, Lunch at the market

1:30 pm Stations: Free time, massage, 1:1 coaching; 1:1 personal training

3:00 pm Workshop: Your Head and Neck and The Turkish Get Up

4:30 pm Yoga and Breath Work

6:00 pm Happy hour and Dinner

7:00 pm Beach or Pit Fire-Dancing, Singing, and Play
Sunday-Day 4
7:00 am Morning Meditation

7:45 am Breakfast

9:00 am Action planning, coaching, commitment to change

10:30 am Closing Circle

12:00 pm Lunch

1:15 pm Pack up and Clean-up

1:45 pm Depart
*agenda subject to change