a shade more ... compassionate
September 27 - 29, 2019
May 29 - 31, 2020
Are you feeling done? Overwhelmed with life demands? Pulled in too many directions? Exhausted with caring for others? Disconnected from your true self? Do you need time out to recharge, reflect and refocus? Need some strategies to care for your self and deal with burn out?
Join us for an inspiring, recharging and well-deserved 2-day, 2-night all inclusive retreat at Enso Retreat Centre on Salt Spring Island, BC. Our unique retreat, in an tranquil and nurturing setting, provides you with an opportunity to enjoy nature's beauty and consider rituals and practices to help you integrate kindness and compassion towards yourself and others in your daily life. Together with other women and facilitators Dori Howard and Suzanne Steenburgh you will reflect, learn, experience, and have fun! You will leave feeling calm, recharged and focused with tools to cultivate a shade more self-compassion, kindness to yourself and wholeness in your life.
This retreat is guided by the following principles:
·begin where you are: no judgement as to competence or level
come prepared for individual reflection and group interaction
come open to possibilities for change and new ways of being
By immersing yourself in this retreat, you will:
Develop a greater understanding of our natural instinct for compassion and how to leverage these instincts for maximum well being for ourselves and others.

Learn how empathy and compassion can both drain and energize us and how to leverage these instincts in our daily lives to maximize our own well being.

Practice new tools and strategies that allow you to nurture and grow the compassionate instinct in yourself and others.

Develop a plan of action to incorporate new practices, to cultivate compassionate living.
What you will do to achieve this
yoga, meditation and other mindful practices

participate in world renown Compassion Cultivation workshops

healthy, nourishing meals with locally sourced ingredients

outdoor nature walks, beach walks, beach play

trip to the famous salt spring island market or north end farm

sharing poetry and listening to soothing music

purposeful journaling, reflection and discovery

action planning and coaching

sharing, connection and fun!
Who is this retreat for
a shade more…compassionate is offered to women in caring, helping, healing or other service professions or any woman who has experienced exhaustion or overwhelm with caring for others. Maximum of 12 participants.
Location and how to get there:
The enso Retreat Centre is located on tranquil Salt Spring Island, BC - where zen meets west coast. This 4.3-acre oceanfront property has stunning sunsets, soothing waves gently rolling in to a private smooth stone beach, dense forests of arbutus and fir trees, a babbling brook and close proximity to hiking and the funky town of Ganges.
To get here, you must travel by BC Ferries or fly via Harbour Air. Bring your car and/or carpool with other participants (ferry reservations strongly recommended). We can arrange a ride to the property however you decide to arrive to this magical island. For those bringing a vehicle, there is free on-site parking.
Retreat + Accommodation + Meals
$740.00 - Dorm | $800.00 - Shared Room | $830.00 - Treehouse | $850.00 - Private Room SOLD OUT for Sept.
Retreat fees are per person and cover 2 nights of oceanfront deluxe accommodation, peaceful, tranquil venue, healthy nutritious meals made with organic, locally sourced ingredients (2 dinners, 2 breakfasts, 1 lunch, snacks, coffee, tea, beverages), world class compassion learning program, kundalini yoga, meditation practices, group coaching, beach and outdoor activities, connection circles, reflection and mindful practices. PLUS, a follow up group connection session via Zoom following the retreat.
Retreat + Meals only
$585.00
Above prices do not include accommodation.
All different kind of accommodation options available (stargazer dorm, shared room, treehouse (private), private room, offsite). Please note, that only limited number of each accommodation type is available at enso Retreat centre, so if you have a certain preference, register soon! Alternate accommodations are available on Salt Spring Island. Connect with us if you'd like to book your accommodation.
What to bring:
yoga mat (if you have one; if not, our newly renovated studio has plenty)

walking shoes

water shoes (to step in ocean)

comfortable clothing for yoga and for sitting in retreat, and to layer

an object that represents who you are and where you are right now

poem that resonates with you now

journal and pen

hiking/walking poles if you use them

water bottle, hot drink thermos

bottle of wine to share if you want to drink wine with dinner
a snapshot of a shade more… compassionate
Friday:
Arrival, welcome, opening circle

Workshop-Settling the mind-yoga, meditation

Dinner

Sharing, connection, Compassion workshop. journaling
Saturday:
Morning meditation practice

Breakfast, Free time

Workshop-Compassion for Self

Market time!!! and lunch at market

Free time

Workshop: Loving kindness to self

Yoga , meditation practice

Happy hour and Dinner

Beach or indoor fire, poetry

Closing, journaling, sleep meditation
Sunday:
Morning meditation practice

Breakfast

Workshop: Compassion for others

Nutrition Workshop

Hike and walking meditation

Action planning and coaching

Closing circle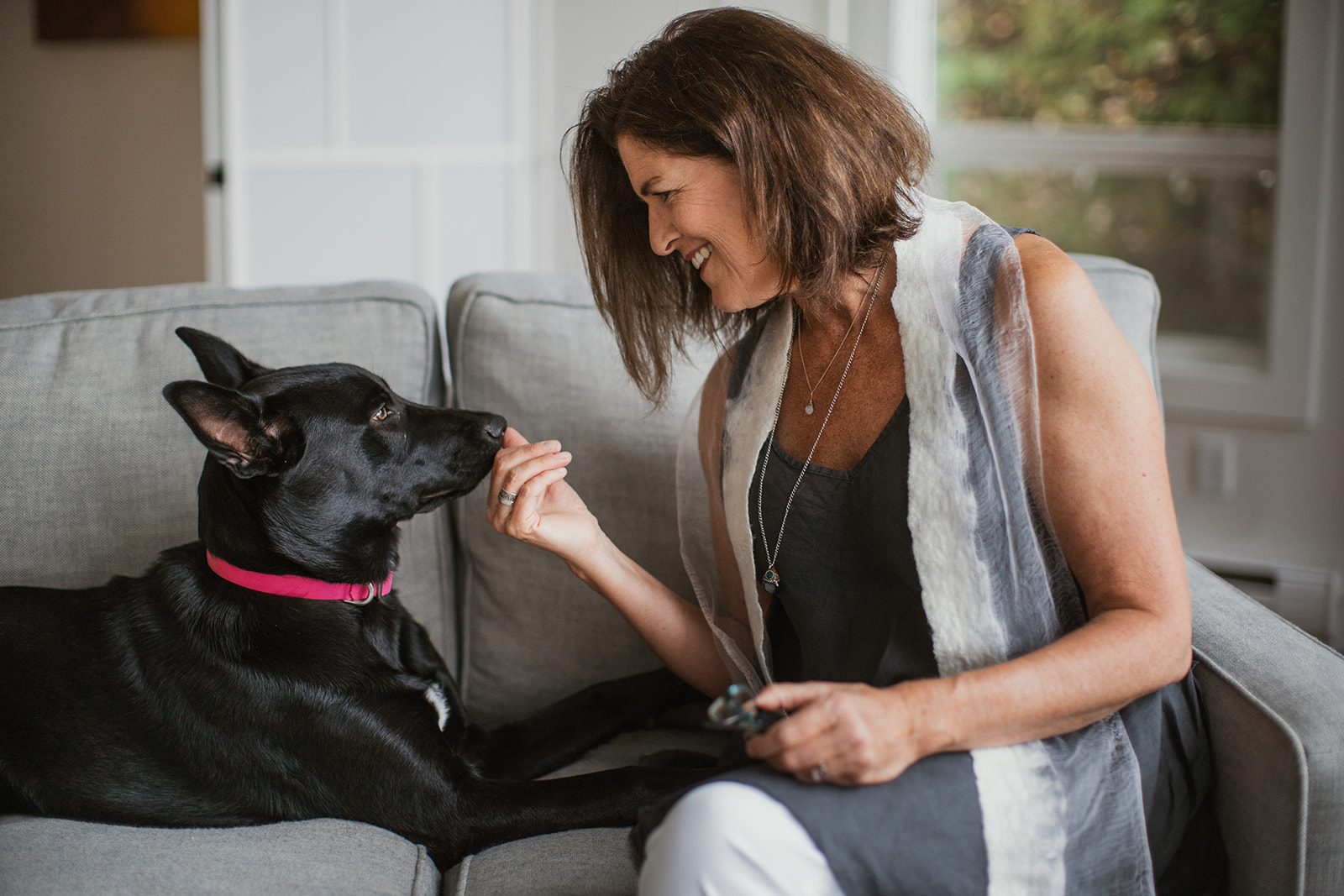 Retreat host, Professional Coach, Kundalini Yoga Teacher, Nurse
Dori's mantra, "it's all about the learning," is integrated into all aspects of her life. her experiences in healthcare for over 30 years have brought many lessons of giving, receiving, health and wellness. Her past few years have been a lived experience of cultivating self - compassion. From compassion idiocy to compassion literacy, her view is that there is no magic bullet but rather a range of life practices that can move us 'a shade more…' towards wellness and healing. She has created a self-prescribed holistic care plan that includes yoga, meditation, conscious nutrition, hiking, and time in nature in her daily life in order to balance compassion for self and others. The healing environment at enso Retreat Centre, also her private home, on Salt Spring Island has created a safe, holistic space to become a shade more… whole. Dori is a skilled facilitator with extensive experience in leading individual and group learning activities. She is a certified executive coach, RN, and Kundalini yoga instructor. Her passion is creating spaces and experiences for people to reflect, learn and try out new (or re-activate) practices that move them toward life wellness and wholeness. Integrating Kundalini yoga practices into her life led her to become a Level 1 KRI certified teacher. As important as brushing your teeth and washing your face, a daily shower for the mind includes a meditation practice to ease the mind, body and soul to practice self compassion.
Registered Nurse. Compassion Cultivation Trainer
Through Suzanne's 20 years of working closely with children with brain and spinal cord tumours, and as a leader at the B.C. Children's Hospital, she developed a passion for supporting the emotional wellbeing of caregivers.
As a parent, nurse, health leader, and care giver for her aging mother, Suzanne recognized that the heath system alone is not able to keep up with the rapidly increasing mental health needs of our care givers. This prompted her to seek out the latest research, science and programs on compassion and empathy fatigue, leading her to mindful compassion education and practices. Suzanne currently focuses her efforts on exploring, teaching and promoting mindful compassion training in hopes to support both paid and unpaid care givers to prevent and heal empathy fatigue and overwhelm.
Suzanne is a registered nurse and certified Compassion Cultivation Training teacher through the Compassion Institute in San Francisco. She believes that through raising awareness to our inherent need for self-compassion and our compassionate nature for others, we can reduce underlying fear, anxiety and disconnect, allowing us to restore a sense of peace and heartfelt happiness.
Suzanne brings a sense of wonder, acceptance, curiosity and humour to her work with others and believes in compassionate listening while also sharing her personal journey to help others connect to their own.